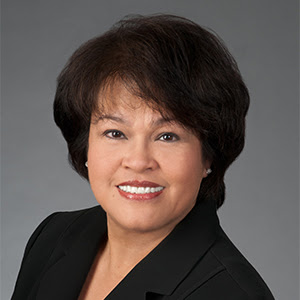 Ninfa M. Saunders, DHA, FACHE
Dr. Ninfa Saunders is an experienced health care executive having served as a top executive for several health systems. She is formerly the President and CEO of Navicent Health, where she transformed the hospital into a regional referral center through acquisitions, partnerships, new service lines and a strategic alliance with 30+ hospitals. In her role, she orchestrated a merger with Atrium Health placing Navicent in a strategic position for the health system. Previously, she served as President and COO of Virtua Health; with her leadership the organization became the largest system in South Jersey.
Throughout her career, Ninfa has been recognized for her exceptional leadership, including Modern Healthcare's "Top 25 Women Leaders in the US" and "Top 25 Minority Leaders in Healthcare." In 2020, she was honored with the American Hospital Association's "Board of Trustees Award" for her work as past chair of its Institute for Diversity.
Since retiring from Navicent Health in 2020, Ninfa has been focused on corporate board service. Currently, she serves as healthPrecision's Vice Chairperson and sits on the boards of T2 Biosystems, a publicly traded diagnostic laboratory company, Avia, a private digital transformation enterprise; and Laudio, a privately held tech start-up that develops employee engagement solutions. Her non-profit board affiliations include CVS/Aetna's Health Advisory Board and Jefferson Health's President's Leadership Council.
Ninfa's dual background as a CEO and COO informs her ability to formulate and execute innovative strategies, as well as pivot business models to meet changing economic conditions. She is passionate about leveraging her broad expertise to help corporate boards define "smart growth" strategies that are profitable, sustainable and add shareholder value.
Dr. Saunders completed her Doctorate in Healthcare Administration at the Medical University of South Carolina. She earned a Master of Business Administration from Emory University and a Master of Science in Nursing from Rutgers University. Her Bachelors of Science in Nursing is from Concordia College in Manila, Philippines.